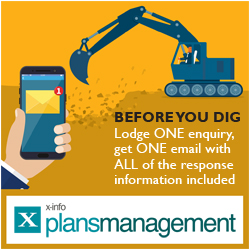 X-Info Plans Management is a browser based solution that automates the collation of your incoming DBYD responses.
With our X-Info Plans Management software, you simply lodge your enquiries with DBYD, then the responses for each enquiry are automatically collated and sent to you in a single email – it's that simple! Within that email is a hyperlink to all of the information sent by the asset owners – including the email content and any attachments (which is often where the really important information is) and a link directly to the X-Info Plans Management portal so that they can check on any of the detail – including the status of each job.
Not only does X-Info Plans Management significantly reduce the administration burden on your projects, it increases compliance (ensuring no one drops the ball) and reduces project planning risks through proactive features such as automatically reminding you every 28 days that your current dials are due to expire.

"Being able to check on any job via a web based console gives us the opportunity to just get on with the other planning and scheduling tasks associated with field work. We have seen a significant business process improvement since introducing X-Info Plans Management".
Jason Luichareonkit, Business Systems Manager, Zinfra